When you have a website, one of your goals is for it to be an extension of you as a restaurant and a restaurant owner. It needs to serve as a platform for you to give customers a feel of your food and your establishment, a place for interaction between the customer and your restaurant and a place to help customers to find you. Customers want to feel welcome so it is great to provide tools on your website that create this atmosphere. Having a website is one of the top restaurant marketing ideas, and a key tool in your restaurant marketing plan.
By the end of this post, you will learn 3 simple ways to improve your website and restaurant marketing with your website to enhance a welcoming atmosphere to in turn increase traffic to your restaurant.
1. Clear & Easy to Find Contact Information
I have had a few run-ins with restaurant websites where I simply cannot find basic contact information. When this happens, I either check another source, if I really need to go to this restaurant or I leave the website and find another place. The second scenario is the most popular and that's not a good thing. Make sure phone number or contact page link is placed in areas of your website that customers cannot miss. Your contact page link should be placed preferably in the navigation which is the first place a customer looks when they need to navigate your website. I will strongly advise that your phone number and address should be in plain text so it is clickable on a mobile device. Nowadays, there seems to be an underlying motto of "if it's not easy, I don't want it" so don't get caught in this web. In this same thought, make sure your map is an embedded Google map, not an image so customers can easily map out their journey right from your website. Adding your social media profile page links is also a great way to add to the ways a customer can contact you.
Example 1
The Bancroft clearly displays contact information prominently in navigation and on the home page of their website.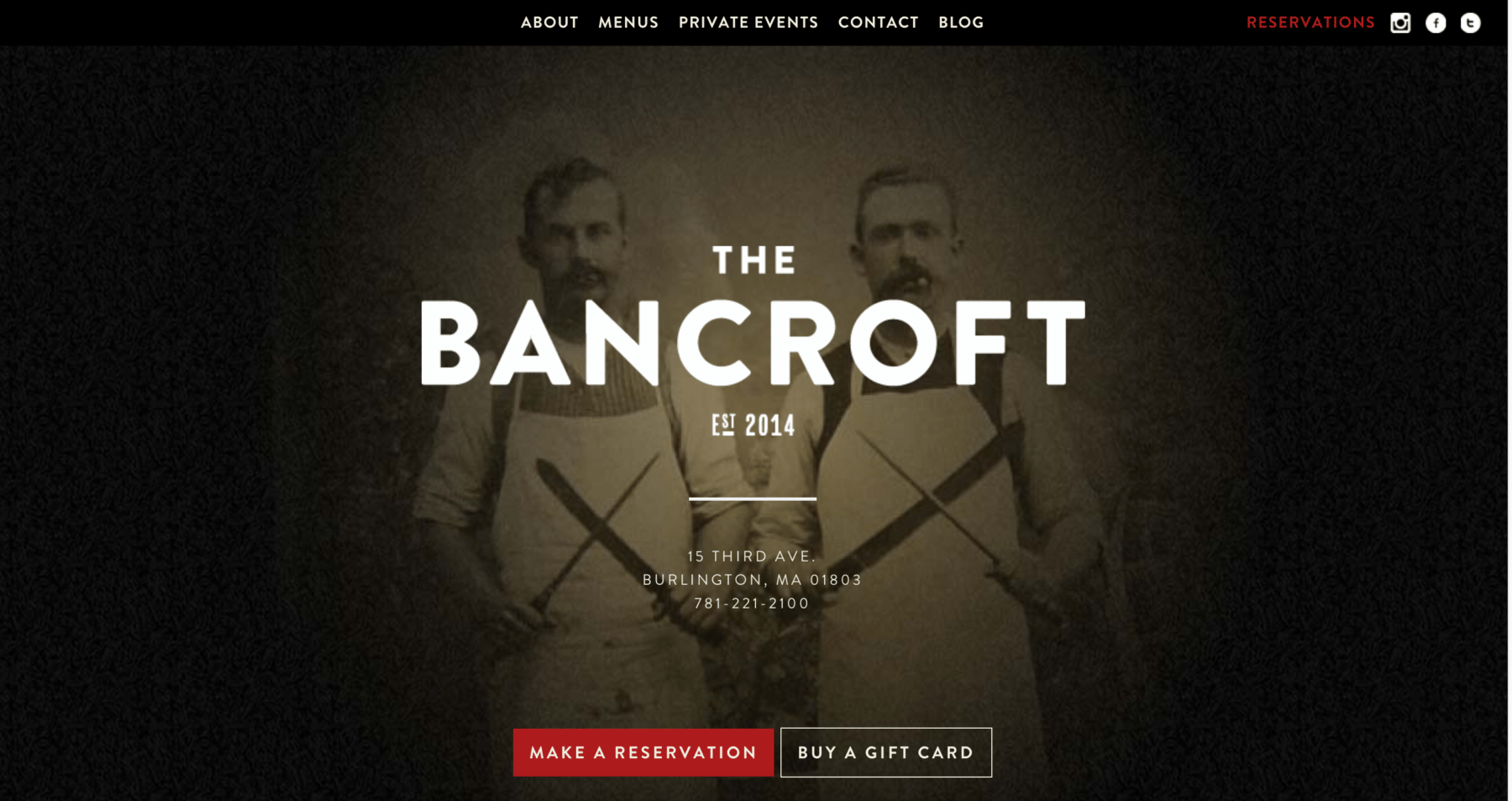 Example 2
At the bottom of every page, The Eddy displays a map and all contact information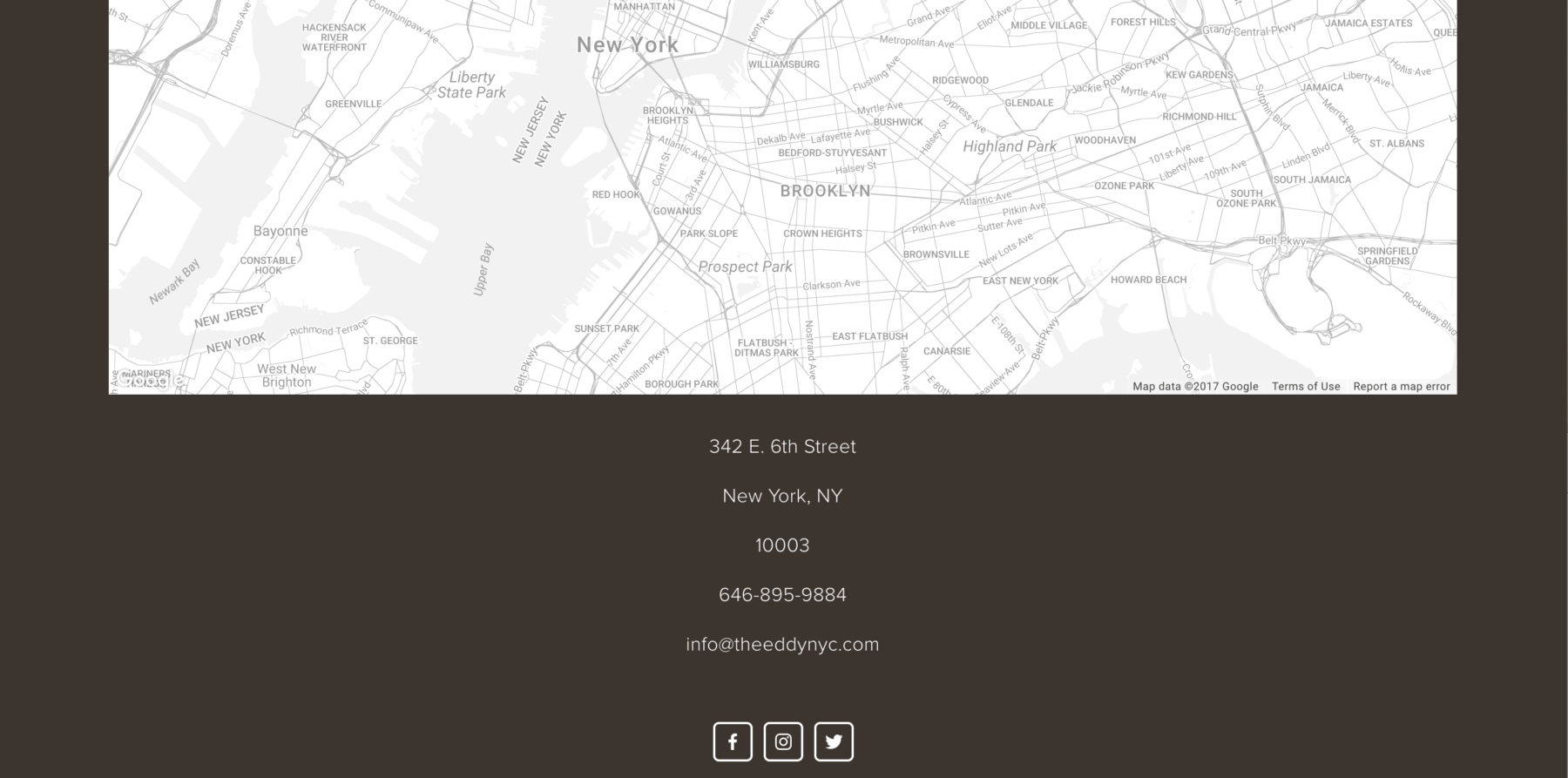 In summary, customers need to know where you're located and how to contact you. Don't hide it.
2. Customer Reviews / Testimonials
Reviews and testimonials are a great way to engage customers  but it, for some reason, tends to be one of the overlooked restaurant marketing ideas when creating a website. When I'm about to place an order of pad thai (my favorite Thai dish) from a Thai food restaurant I've never been to, I love to read reviews on customers' experiences with the pad thai and how quickly it's delivered. Once those two areas check off with great results, I'm sold but if I am unable to find this info, I rarely order from there. As humans, we love to get recommendations on things other people have used and are happy with because it reassures us that we are making the right decision. Listing reviews from customers on your website is a great way to push people to want to eat at your restaurant. Yelp, Google, Trip Advisor, Zomato and others are great platforms to get your customers talking about you. Get a business profile set up through these review platforms and keep it up to date. Grab your best reviews from there and place them on one of the pages of your website to entice your customers. As simple as that. Doing this is not only a great way to bring people in but it also serves as a way of knowing where you are doing well and where you are not. There should always be room for improvement.
Example 1
Quay does a great job by showing a slide show of customer reviews on their about page.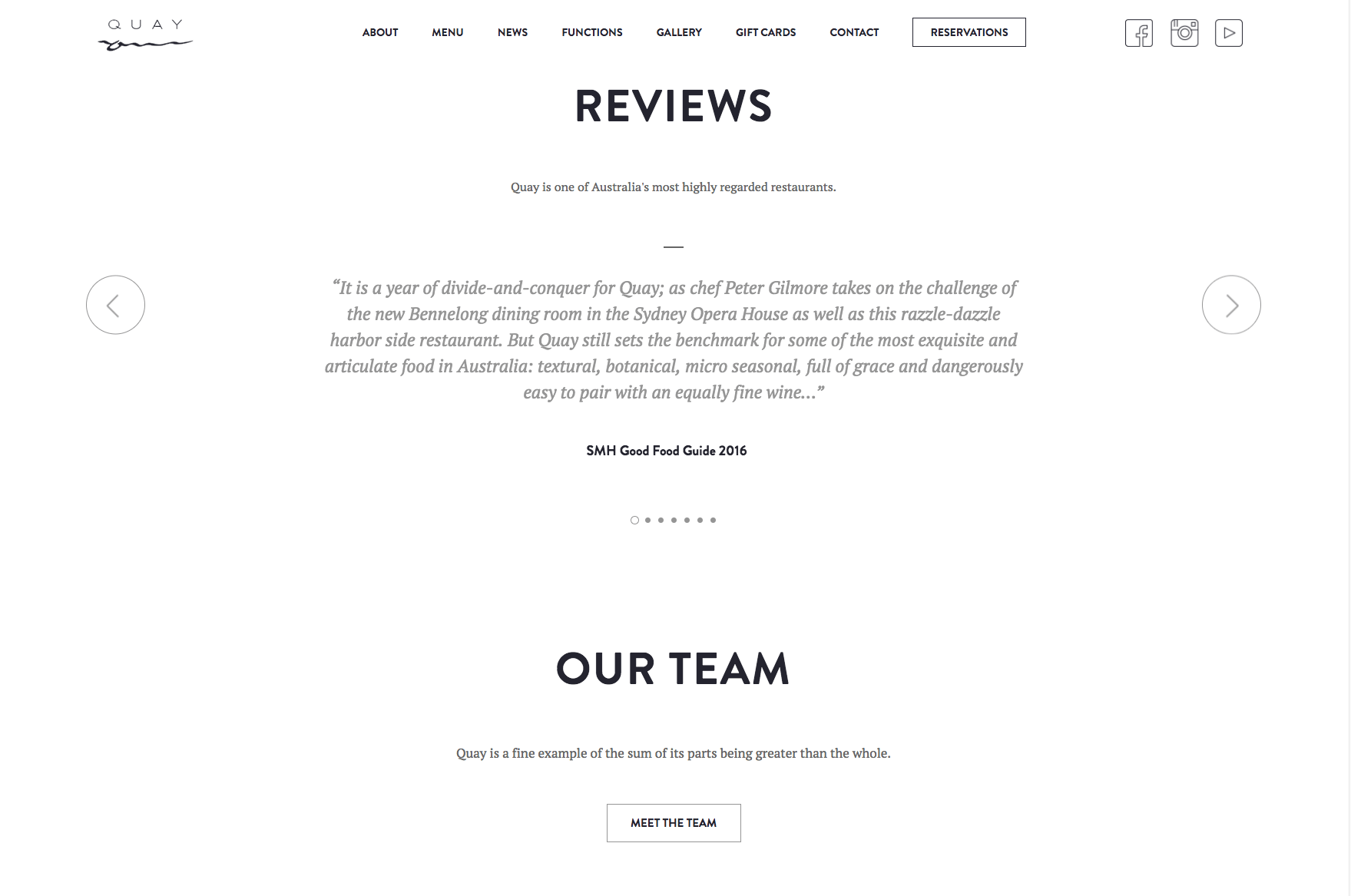 Example 2
Heres Looking at you shows a link to a review by LA Times right on the home page of their website. Since this review is of great standing, just the one review says it all.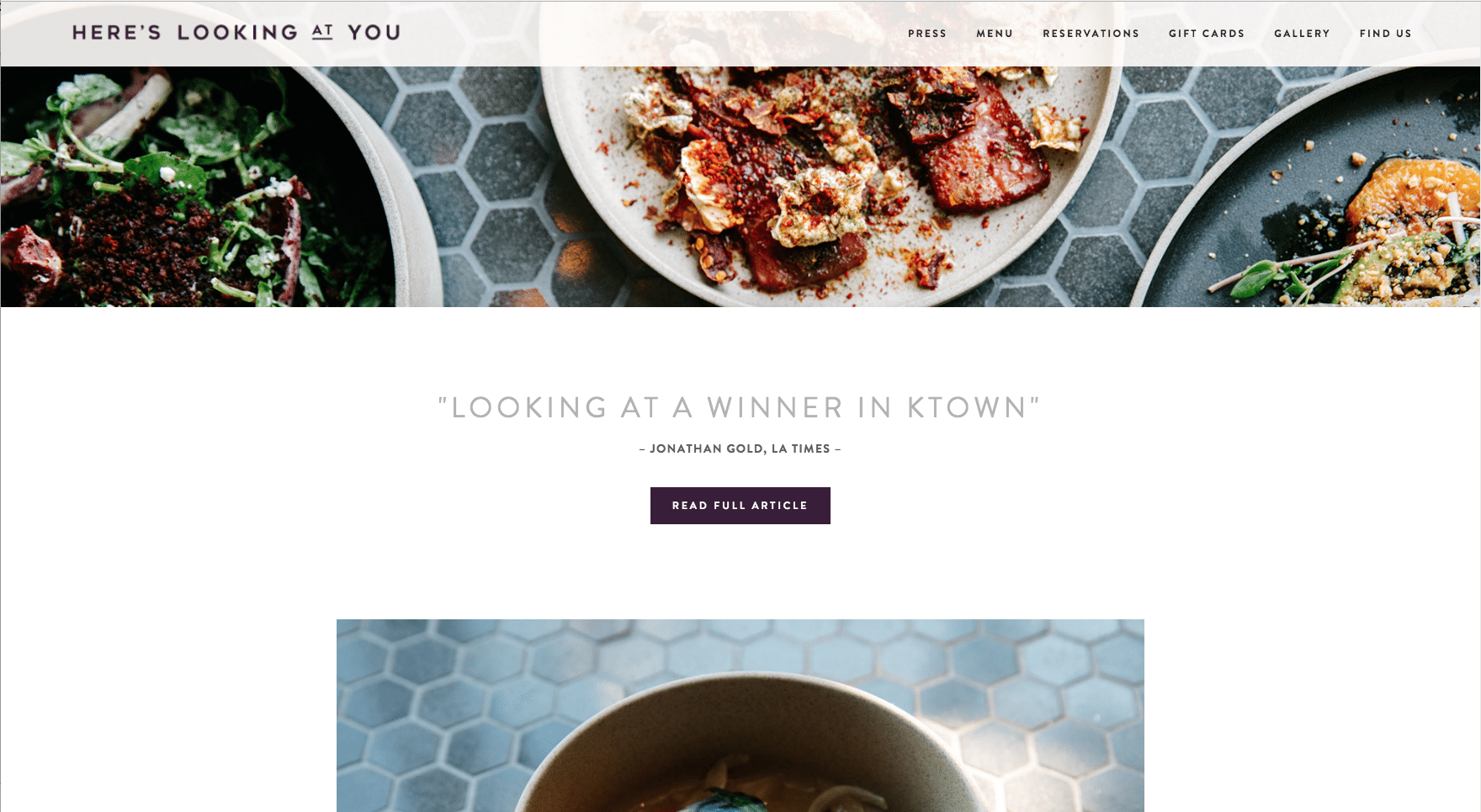 In summary, flaunt the great things people have to say about your restaurant. It sells!
3. Opt-In Forms
I rarely see opt-in forms on independent restaurant websites but it is a great tool in the restaurant marketing plan and is very easy to start. An opt-in form is a simple form with an email and/or name field to capture email addresses and in return provide them with something of value. Your email list provides you with a large list of people interested in the food and culture of your restaurant. You can send menu updates, events, promotions like a "Free burger on your birthday", "Taco Tuesday", "Milkshake Thursday", whatever, to give subscribers an urge to come in. You have to note that when one person comes to your restaurant, they rarely come alone… Chi-Ching. Your opt-in form can be placed at the top of your website, on your contact page, in the footer of your website, in a pop-up box, in a blog post, at the end of a blog post or even on every page. Some of the best choices for setting this up would be email marketing platforms like Mailchimp, Mailerlite, Mad Mimi, InfusionSoft, just to mention a few. These platforms include many other email marketing features that can add more value to your online presence. To save you money starting to grow your email list with email marketing, Mailchimp offers a free service with up to 2000 subscribers and Mailerlite (who I am affiliated with and use on my own website) also free with up to 1000 subscribers.
Example 1
Here is an example of a pop-in opt-in form on Lemonade's website. On this website, it pops up right when you enter the website but it is possible to adjust the timing, in your email marketing platform, of when the form pops up after a customer goes to the website.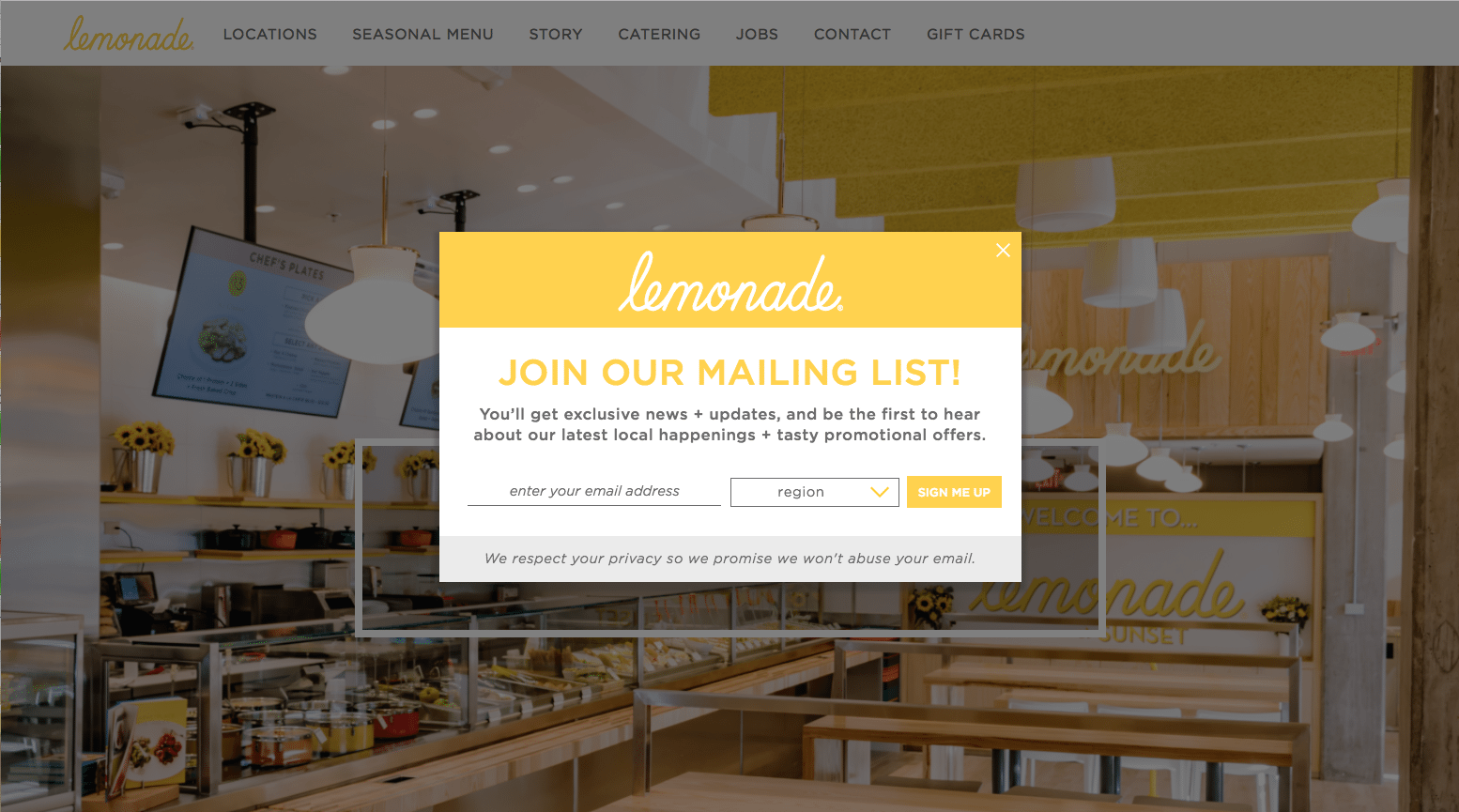 Example 2
Here is an example of Red Bird's simple opt-in form in the footer of the website of every page.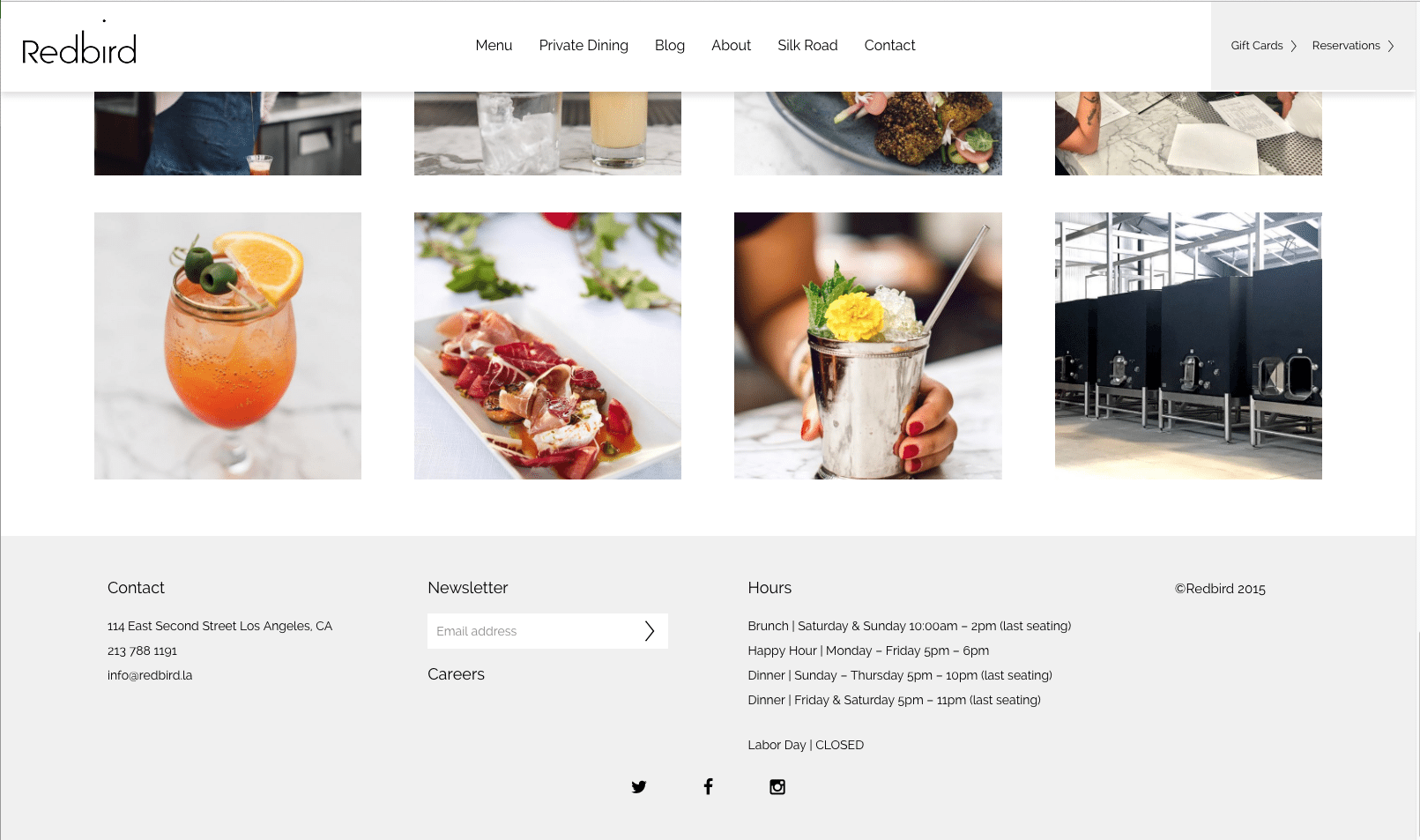 In summary, an opt-in form is a small and valuable addition to your website that helps to increase your reach and keep your customers up to date. Check out the opt-in form I have here on this site offering Editable Restaurant menus you can download and use in your restaurant marketing plan. 
So there it is! I hope this post inspires you to make just a few tweaks to your website to enhance and take it a step further to attracting more customers to your restaurant.
Comment below to let me know how this goes 🙂